Written by Sabeen Munim
Forman Journalism Society has another session of its most appreciated series of J-Talks. This time FJS had the immense pleasure of having Iqrar Ul Hassan, from the famous show "Sar-e-Aam". Vice President of FJS initiated the session.
The Youth General Assembly and Awaazein were also part of this discussion. Awazein is responsible for educating the transgender community and taking initiatives for their life happenings.
The discussion started with issues faced by minority groups in Pakistan. A special thanks was extended to Iqrar-ul-Hassan, for the work he does on his show towards spreading awareness of issues of marginalized groups.
Iqrar Ul Hassan has covered more than 100 documentaries presenting the seen and unseen stories of Pakistan to the Pakistani Media Industry. 
He covered the Burma issue wholeheartedly by travelling to Burma and exposed the entire happenings of it to the entire world through his show. He has been working with ARY NEWS for past 12 years and is very proud of his affiliation with the ARY NEWS Channel.
He talked about his student life of being a Ravian and wining the first gold medal of his debating life in FCC auditorium. He appreciated how great debater was born during his era up till 2006. He encouraged the present students to ask any questions regarding anything they wanted to know about his current campaigns. He continued talking about the positivity he has always got from Faiz Ahmed Faiz saab's poetry. He stressed upon the verse,
"Bol k lab azaad hain tere" and its role in his personal life. He told the audience how greatly he got influenced by Faiz saab's poetry during some dark times in his personal life.
He talked about his journey and how emotionally connected he is with the National anthem of Pakistan that whenever the words get into his ears, he ends up having teary eyes.
Talking about the significance of Faiz Ahmed Faiz's 'Bol', he said that our society is yet to face a lot of realities that we have been neglecting to accept them courageously. He stated:
"Our society needs to face the reality first. People are afraid to face truths here."
According to him, this needs to change, beginning at the most micro level- not lying to yourself. He said he tries his maximum to not lie in his daily life as an initiative that he can convince people to not to lie in their lives.  He humorously revealed that my devotion towards honesty is that,
"I do not even lie to my wife." (Biggest problem of married men) .
He spoke to the audience about his views on the current situation in Pakistan. He too feels it's extremely messy and, sometimes, feels out of control.
Being the staunch patriot that he is, he said that we all have the power to change Pakistan and make it better and that our wattan se pyaar, should motivate us to strive towards better things.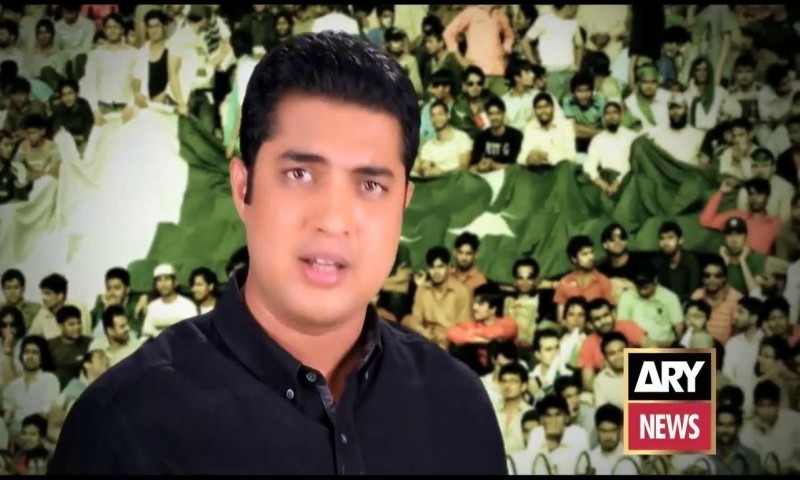 He ended up his address by saying this;
"Tabdeli kehne se nae ati,, kuch karne se ati hai", motivating the students to feel the love for their nation and doing their part in making it a better place.