Pakistan's General Elections have been an absolute roller-coaster ride. From the entire dilemma of the Sharifs going to jail, to Imran Khan finally winning the seat, it's been crazy. But here's what's actually been the craziest: Aamir Liaquat, you know, our nation's beloved aam khaayega aam guy just beat a seasoned politician, Dr. Farooq Sattar in Karachi.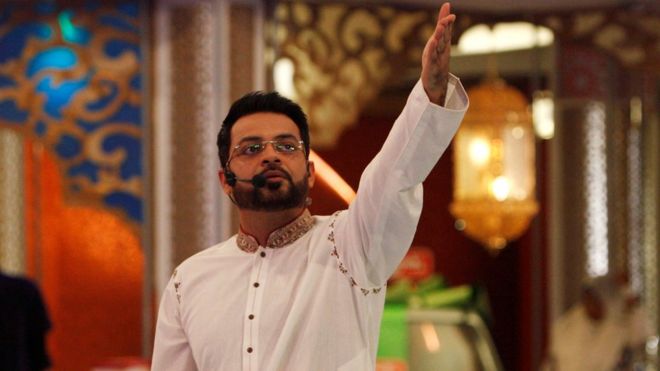 Basically, Aamir Liaquat – PTI – was contesting against Dr. Farooq Sattar in NA-245. AND HE WON. 
What do you get when you cross Aamir Liaquat, his victory and the internet? Well, a lot apparently. Basically, people have lost it and their coping mechanism is obviously venting on the internet. As a result, you have tweets and memes that basically summarize the entire situation.
Some people can't help but wonder if Karachi is okay
Karachi seems to have elected, so far, a gorgeous model, Aamir fkn Liaquat, TLP (from a provincial) and voted out the MQM from several strongholds. Yeh shehar bhi forever not coming slow

— Ahmer Naqvi (@karachikhatmal) July 26, 2018
Others still can't understand how he's managed to beat other candidates
Is there a constitutional way to give Amir Liaquat's seat to Yasmin Rashid?

— Hassan Cheema (@mediagag) July 26, 2018
However, others seem to find a lighter side to the matter
Imagine Amir Liaquat sitting in National Assembly and saying:"Speaker sahab! Aap aam khayeinge aam? Hain?"#PakistanElections2018

— تاثیراحمد (@i_taseer) July 26, 2018
Just…prepare yourselves for this for the next five years
Get ready to embrace @AamirLiaquat Bhai. He will be taking mangoes in the assembly for the next five years. pic.twitter.com/a6cLvb9wdo

— Humair Khan (@humairkhan90) July 26, 2018
Hahaha, kyun yaar! 
When Aamir Liaquat offers me a mango. https://t.co/Eel7lgBW4Z

— hasnain (@hasnainyc) July 26, 2018
Humaray assembly sessions ki log ab misaalein dein ge…
IMAGINE a serious assembly session where the opposition criticizes the PTI government and the camera turns towards Amir Liaquat making this face: pic.twitter.com/Fk8Fu4iuzO

— Danyal. (@YarDanyal) July 26, 2018
Even people who voted for him are becoming memes. 
People who voted for Amir Liaquat pic.twitter.com/EMODmc0y81

— Shumail (@Shumyl) July 26, 2018
LOL ok.
NA-245 pic.twitter.com/dmGKvXfcxi

— Shumail (@Shumyl) July 25, 2018
Hanse? Royein? Samajh nahi aa raha
NA-245 – Amir Liaquat is losing. But Farooq Sattar is winning pic.twitter.com/vnCcSnOoNW

— Shumail (@Shumyl) July 25, 2018
Bring on the endless drama!
Can we have a Rana Sanaullah vs Aamir Liaquat fight-to-the-death in the first parliament session? Trial by combat let aao, inka aur koi hal nahi

— Hassan Cheema (@mediagag) July 26, 2018
Then there's this…
Anyone who votes for Aamir Liaquat pic.twitter.com/ZSzI3CjybO

— Nihari (@NihariFan) July 25, 2018
And a bit of a warning, perhaps?
I have two words for those people who in the space of less than 24 hours have started feeling cautiously optimistic about Imran Khan: Aamir Liaquat.

— Usman Ahmad (@UsmanAhmad_iam) July 26, 2018
Oh, new banter.
Aamir Liaquat does serve a propose. He will be the constant reminder to PTI that they can and need to do better next time around.

— asad (@NArs80) July 26, 2018
At the end of the day, we all know deep down that this is probably how he reacted.
Aamir Liaquat to everyone #ElectionResults2018 pic.twitter.com/ZLtf6HgD08

— ارتضیٰ (@Itaza) July 26, 2018
But whatever the case it, all everyone hopes is that we actually get to see some real change at the end of the day. What do you think about the scene, though? Let us know in the comments!
---
Cover image via voj.news