Hey friends,
So while we were working on our super cool amazing new app KhanaBaaz, we realised that we all spend most of our lives sitting in restaurants. I mean, think about it. Nashta, lunch, dinner, chai – there is always a place to go eat in Pakistan.
With that in mind and us being MangoBaaz, we wanted to know some of your most embarrassing/funny moments that have taken place in restaurants because honestly, why not. Lolllllsy.
Hey folks, question. What's been your funniest experience while eating out at a restaurant?

— MangoBaaz (@mangobaaz) August 3, 2017
1. Ohh, Aunties
There were these aunties who clearly were hating on my group & I. I obviously retorted & there was a passive aggressive war. It was the best

— Arslan Athar (@ArslanArsuArsi) August 3, 2017
Saw college couple got caught by some​ aunty they know and She had a funny Punjabi accent . I still remember that "HAW HAYE" ???

— Syed Ahmed Hassan (@ahmed99hassan) August 3, 2017
2. Lolsy, talk about awkward
coming back from the bathroom and sitting at the wrong table

— Biya Haq (@BiyaHaq) August 3, 2017
3. The saddest thing we ever heard
So the patty of my burger just slipped out and wiped the entire floor of the food court. People started laughing their ass off.

— Hamza Shah (@iHamzaShah) August 3, 2017
4. Dinner and a show?
Spotted waqar younis. It was a grad party. We lined up for a pic and man said no. He later joined & broke into a bhangra with us

— speedygonzalez (@HibaNomem) August 3, 2017
5. For all of you couples out there…
Btw friends, if you want to avoid this HORRIBLE *cringe* situation, just download MangoBaaz's new app, KhanaBaaz! You'll be able to figure out which one of your judgmental phupo's will be where. Basically a life saver. *cringe*
6. Hope you weren't wearing white…
trying hard to pour ketchup frm botle by shaking it hard and it goes on other's shirts..Since than I always asked waiter to help

— FarkhundaAkhtar (@FarkhundaKhan) August 3, 2017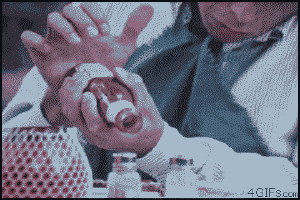 7. Sitting outside is a risk
Eating Nando's outdoors and a seagull just swooped in from outta nowhere and flew away with my chicken ?

— Haleema Khan (@haleemak_) August 3, 2017
Of course you can always avoid you food being hijacked by using KhanaBaaz's seating feature! You'll know which restaurants have outside sitting areas and smoking areas!
8. Uff, too embarrassing yaar
Broke a salad bowl

— Hamayal (@tutta__frutta) August 3, 2017
9. I mean, lolsy
The waiter was high as a kite.

— Tahir Naeem (@TahyrNaeem) August 3, 2017
10. Tag a kangla
Running out of C@$H!

— Quswar Abid (@QuswarAbid) August 3, 2017 All good friend, we've all been there. Luckily, KhanaBaaz will let you know which places to take cash or card. To save you from the embarrassment and well, idk washing dishes for a week? Love you.
11. Read at your own risk
Cockroaches fell out of the ceiling and onto our table while eating.

— Tahir Naeem (@TahyrNaeem) August 3, 2017
12. Do what you gotta do friend
I was out with friends when a couple on the other table left half filled coke. We're thirsty and had no money. I took it the bottle. ???

— Manahill I. Khawaja (@miieenna) August 3, 2017
13. Again, do what you gotttttta do
ordering food with friends which was more than in our budget and then eating it all instead of changing order

— ???? (@desi_ozi) August 4, 2017
14. Hahaha, we get it! Reading MangoBaaz articles will do that to you 😉
been laughing with my squad so loud that every one is staring at you like they are going to shoot you

— Faizan Abid Awan (@faizi_pakistani) August 3, 2017
Have any funny restaurants of your own? Have you ever knocked over multiple dishes? Caused a fire? Had a meltdown? We want to know! Let us know in the comments section below!
Also, since we love you so much – we really think you should check out this new app, KhanaBaaz. Going out for food is what we do best so we'd thought we'd make it even easier for you. Love you.